ESP32-WROOM-32D - Wi-Fi/BT/BLE Module with PCB Antenna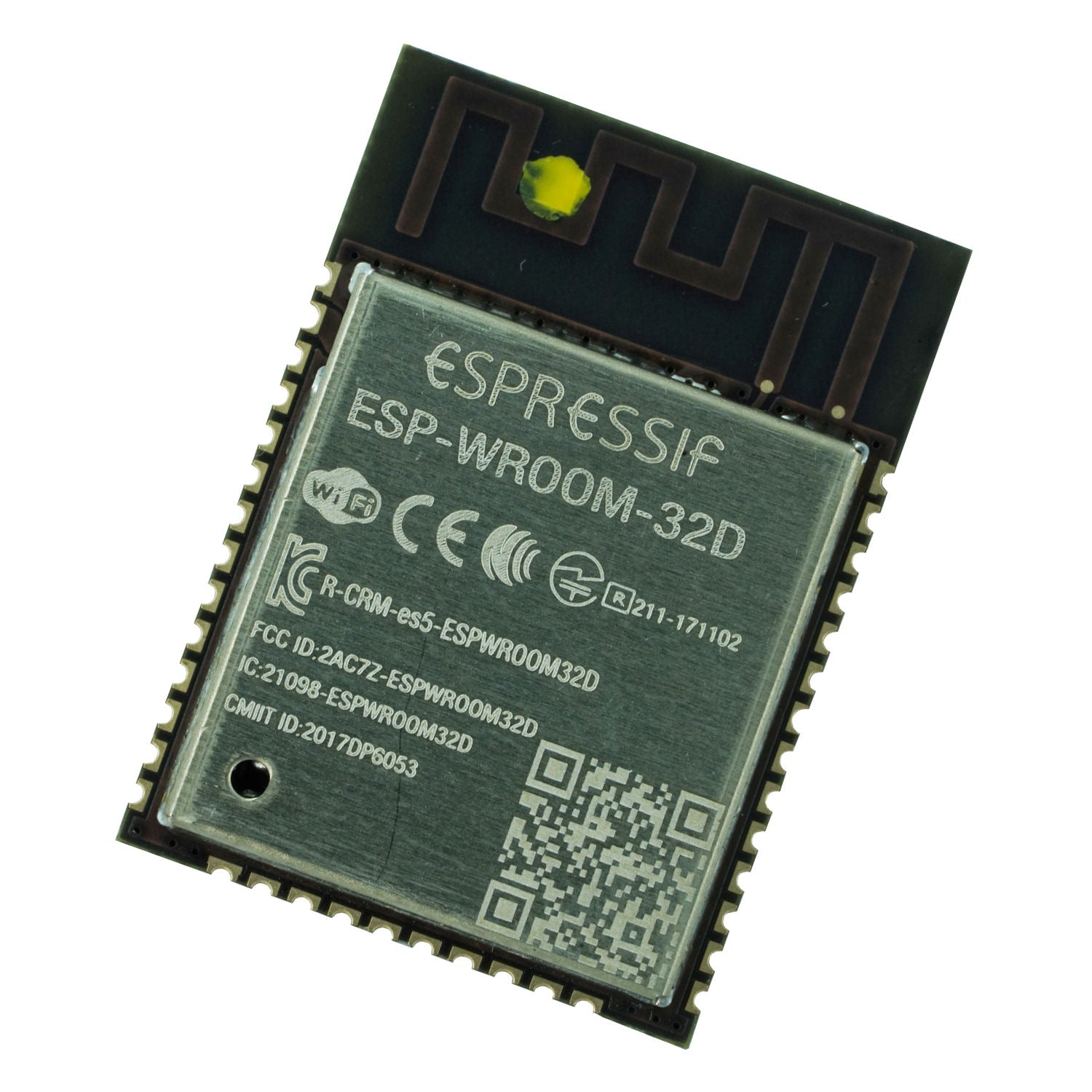 ESP32-WROOM-32D - Wi-Fi/BT/BLE Module with PCB Antenna
Product Images
ESP32-WROOM-32D - Wi-Fi/BT/BLE Module with PCB Antenna: 8MB Flash
$4.15
SKU: GC-ESP-WROOM-32D-8M
MPN: ESP32-WROOM-32D-N8
Manufacturer: Espressif Systems
Stock Status: In stock
Delivery: Ships same or next business day
Shipping is Free on orders over $100
Closeout:

Limited quantity available.
We've Got You Covered
Product Information
Product Description
High Temperature option is NOT for new designs. Order quantity is limited to in-stock amounts. 
The Espressif ESP-WROOM-32D is an industry-leading Wi-Fi, Bluetooth (BT), and Bluetooth Low Energy (BLE) module designed around the ESP32-D0WD chip. This module offers a PCB antenna which increases the RF performance for a wider range of applications.
With the integration of the ESP32-D0WD chip, the device provides two (2) individually controlled and powered CPU cores. The CPU has an adjustable clock frequency (80 MHz to 240 MHz) and can be powered off while a separate low power co-processor continuously monitors the peripherals for changes in status.
Some of the powerful peripherals integrated within the ESP32-D0WD include:
High speed SPI
UART
I²S
I²C
Ethernet
SD card interface
Hall sensors
Capacitive touch sensors
Low-noise sense amplifiers
The WROOM-32D utilizes a freeRTOS operating system with LwIP; TLS 1.2 and built-in hardware acceleration. It is fully-customizable with an open-source platform and secure encrypted over-the-air (OTA) updates, allowing firmware to be updated in deployed products with minimal expense.
GitHub provides a large collection of example code and information for device customizations.
Common applications include:
Internet of Things (IoT) solutions
Wearable electronics
Home automation
Music streaming
MP3 decoding
Sensor networks
Voice encoding
Order Summary
| SKU | Flash Memory | Manufacturer Part # |
| --- | --- | --- |
| GC-ESP32-WROOM-32D-N4 | 4MB | ESP32-WROOM-32D-N4 |
| GC-ESP-WROOM-32D-8M (SALE) | 8MB | ESP32-WROOM-32D-N8 |
| GC-ESP-WROOM-32D-16M (SALE) | 16MB | ESP32-WROOM-32D (16 MB) |
| GC-ESP-WROOM-32D-HT (SALE) | 4MB | ESP32-WROOM-32D-HT |
Features
Combo Wi-Fi, Bluetooth (BT), and Bluetooth Low Energy (BLE) module
Integrates with the ESP32-D0WD chip
Two independently controlled CPU cores with adjustable clock frequency from 80MHz to 240MHz
Sleep current is less than 5 μA, making it suitable for battery-powered and wearable-electronics applications
4-layer FCC, CE ( RED ), IC, TELEC, SRRC, and KCC-compliant design
Classic Bluetooth for legacy connections, supporting:
- L2CAP
- SDP
- GAP
- SMP
- AVDTP
- AVCTP
- A2DP (SNK)
- AVRCP
Including BLE GATT-based profiles, such as BlueFi, SPP-like, etc.
Bluetooth Low Energy (BLE) connects to smart phones, broadcasting low-energy beacons for easy detection
Wi-Fi modes: Soft-AP/Station/SoftAP+Station/P2P
Fully certified with integrated PCB antenna and software stacks
Documents and Drivers
Documentation
ESP-WROOM-32D Datasheet
Downloads
ESP-WROOM-32 Reference Design V1.1
(recommended for developers who design modules themselves)
ESP-WROOM-32 Reference Design V1.0
(recommended for mass-produced modules)
Specifications
Antennas
Internal On-Board PCB antenna
Certifications
FCC1 / CE1 / CE2 / IC / KCC / NCC / SRRC / TELEC
Firmware
Upgrade: UART Download / OTA (via network)
Download and write firmware via host
Frequency Band
2.4GHz-2.5GHz (2400M-2483.5M)
Interface(s)
Wi-Fi mode: station/SoftAP/SoftAP+station/P2P
SD Card, UART, SPI, SDIO, I2C, LED PWM, Motor PWM, I2S, IR
GPIO, Capacitive touch sensor, ADC, DAC, LNA pre-amplier
Memory
4 MB, 8 MB, or 16 MB Flash
448kB ROM
536kB SRAM
Protocols
Wi-Fi: 802.11 b/g/n/d/e/i/k/r (802.11n up to 150 Mbps)
Wi-Fi: A-MPDU and A-MSDU aggregation and 0.4 guard interval support
Bluetooth: Bluetooth v4.2 BR/EDR and BLE specification
Network: IPv4, IPv6, SSL, TCP/UDP/HTTP/FTP/MQTT
Radio
Power Output: 20.5 dBm
Sensitivity: -98dBm
Security/Protection
Security: WPA/WPA2/WPA2-Enterprise/WPS
Encryption: AES/RSA/ECC/SHA
Sensor(s)
Hall sensor
Temperature sensor
Software
Supports Cloud server development
SDK for custom firmware development
Temperature Range
Operating: -40ºC to 85ºC (-40ºF to 185ºF)
High Temp Option: -40ºC to 105ºC (-40ºF to 221ºF)
Timers
On board clock: 26 MHz crystal, 32 kHz crystal
Request a Quote
Curious about bulk pricing? Please fill out the information below and our sales team will provide a quote within 1 business day.
Product and Quote information
Enter up to two product names/SKUs and up to three quantities for each product. If more products/quantity quotes are needed, please include your requests in the message section below.
Your Contact Information
Please provide information where we can send your quote and reach you in the case where further information is required with the quote.
Where You'd Like the Products Shipped
Please provide information where you'd like the products shipped to so we can give you the most accurate quote possible.
Your Use Case
Please help us understand your use case so we can provide you with the best possible solution. This step is optional, so please feel free to skip it if you'd like.
3 of 3: How challenging has it been to locate products that meet your specific needs?
Confirm Your Request
Please confirm your request and we will get back to you within 1 business day.
Thank You!
Thanks for submitting your quote request. You should receive an email with a copy of your request shortly, and a member from our sales team will reply to you within 1 business day.
You Might Be Interested In
We have the best technical support engineers that know how to use our products.
If our Tech Support cannot solve your problem, we will contact the design engineer or manufacturer to help find a resolution.