Alarm Strobe Light Sensor with Sound Control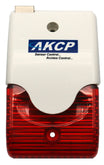 Alarm Strobe Light Sensor with Sound Control
Product Images
Alarm Strobe Light Sensor with Sound Control
$155.00
SKU: GC-AK-STR-00-V
MPN: V-STR00
Manufacturer: AKCP Co Ltd.
Delivery: Ships within 7-14 business days
Qualifies for Free shipping
View video
on Alarm Strobe Light Sensor and Setup.
We've Got You Covered
Product Information
Product Description
Now with variable sound level control, the combined strobe light and siren adds eye-catching audio visual alarms. When triggered, the siren generates a loud alarm sound (hear a sample now) and the strobe light flashes brightly, giving a clear alert of an alarm condition. 
The Alarm Strobe Light sensor plugs into any of our intelligent sensorProbe or securityProbe controllers. The sensor can be extended up to 100 feet from the controller using standard CAT5 cable (a 5 ft cable is provided).
Since the siren and alarm are both incorporated into one device, only one RJ-45 jack on a controller is needed. When plugged into the RJ-45 port, the controller will auto detect the sensor, and display the status of the device.
The alarm can be triggered via the web interface either manually or by configuring the alarm to turn on or off at specific times. 
The device can be also triggered by other sensors connected to the  controller or by an alarm condition generated by the controller. The strobe light and siren can be fully integrated with the sensor notification matrix on our Linux based systems.
Each device has its own SNMP OID so that status can be collected over the network and graphed using external application like MRTG.
Siren and strobe sensor and setup video
Features
CAT5 Enabled siren and strobe allows you to add up to 100' of CAT5 cable to the unit
SensorProbe/securityProbe auto detects the presence of the security sensor
Sensor only needs 1 RJ-45 port on the sensorProbe or securityProbe
Full autosense including disconnect alarm
Documents and Drivers
Documentation
Siren and Strobe Light Sensor Datasheet
AKCP Sensor Selection Summary
Siren and Strobe Light Setup Video
Specifications
Alarm Sound
100±3db@100cm; sound can be variably adjusted or disabled
Communications Cable
RJ-45 jack to sensor using UTP CAT5e/6 cable
Light Source
Super bright LEDs x8 at 400 flash times/minute
Maximum Extension Cable Length
30m (100 ft.) with standard CAT5/6 LAN cable
Measurement Rate
Multiple readings every second
Power Supply
Powered by the sensorProbe or securityProbe controller. No additional power needed.
Temperature Range
-40°C to +70°C (-40°F to +158°F)
Type
Sensor: High/Low Output Switch
Request a Quote
Curious about bulk pricing? Please fill out the information below and our sales team will provide a quote within 1 business day.
Product and Quote information
Enter up to two product names/SKUs and up to three quantities for each product. If more products/quantity quotes are needed, please include your requests in the message section below.
Your Contact Information
Please provide information where we can send your quote and reach you in the case where further information is required with the quote.
Where You'd Like the Products Shipped
Please provide information where you'd like the products shipped to so we can give you the most accurate quote possible.
Your Use Case
Please help us understand your use case so we can provide you with the best possible solution. This step is optional, so please feel free to skip it if you'd like.
3 of 3: How challenging has it been to locate products that meet your specific needs?
Confirm Your Request
Please confirm your request and we will get back to you within 1 business day.
Thank You!
Thanks for submitting your quote request. You should receive an email with a copy of your request shortly, and a member from our sales team will reply to you within 1 business day.
We have the best technical support engineers that know how to use our products.
If our Tech Support cannot solve your problem, we will contact the design engineer or manufacturer to help find a resolution.