ATOP EHG3005 - Unmanaged Gigabit Ethernet Switch, 5-Port, Slim-Type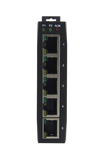 ATOP EHG3005 - Unmanaged Gigabit Ethernet Switch, 5-Port, Slim-Type
Product Images
ATOP EHG3005 - Unmanaged Gigabit Ethernet Switch, 5-Port, Slim-Type
$139.00
SKU: GC-ATOP-EHG3005
MPN: 1P1EHG30050001G
Manufacturer: Atop Technologies Inc.
Delivery: Ships within 1-2 weeks
Qualifies for Free shipping
We've Got You Covered
Product Information
Product Description
EHG3005 with 5 RJ-45 ports and Fast Ethernet is for industrial applications. It is designed to work in the industrial environment, such as in hazardous locations. The slim design is perfect for applications with limited cabinet space. 
The switch complies with CE, FCC and UL standards. 
EHG3005 provides two redundant power inputs that can be connected simultaneously to wide-range DC power sources. If one of the power inputs fails, the other live source acts as a backup to provide the EHG3005 with power automatically.
Documents and Drivers
Documentation
ATOP EHG3005 - Unmanaged Gigabit Ethernet Switch Datasheet
ATOP EHG3005 - Unmanaged Gigabit Ethernet Switch Hardware Installation Guide
ATOP Industrial Ethernet Switches Product Selection Guide
Specifications
Connector(s)
Lockable 5-pin terminal blocks for power input
Dimensions
Slim type, 23mm x 94mm x 72mm
Housing
IP30 protection, Plastic, Black
Humidity
5 to 95%, 55°C (non-condensing)
Indicators LED
PWR1, PWR2, Alarm, ALM, LAN
Input Voltage
Dual Input Voltage: 12 - 48 VDC
Temperature Range
Operating: 0°C to 60°C (32°F to 140°F)
Storage: -20°C to 70°C (-4°F to 158°F)
Request a Quote
Curious about bulk pricing? Please fill out the information below and our sales team will provide a quote within 1 business day.
Product and Quote information
Enter up to two product names/SKUs and up to three quantities for each product. If more products/quantity quotes are needed, please include your requests in the message section below.
Your Contact Information
Please provide information where we can send your quote and reach you in the case where further information is required with the quote.
Where You'd Like the Products Shipped
Please provide information where you'd like the products shipped to so we can give you the most accurate quote possible.
Your Use Case
Please help us understand your use case so we can provide you with the best possible solution. This step is optional, so please feel free to skip it if you'd like.
3 of 3: How challenging has it been to locate products that meet your specific needs?
Confirm Your Request
Please confirm your request and we will get back to you within 1 business day.
Thank You!
Thanks for submitting your quote request. You should receive an email with a copy of your request shortly, and a member from our sales team will reply to you within 1 business day.
We have the best technical support engineers that know how to use our products.
If our Tech Support cannot solve your problem, we will contact the design engineer or manufacturer to help find a resolution.