This product is discontinued and no longer available.
ComBricks PROFIBUS PA Monitoring Kit
COMbricks PROFIBUS DP Monitoring Kit

COMbricks PROFIBUS DP Monitoring Kit - Front

COMbricks PROFIBUS DP Monitoring Kit

COMbricks PROFIBUS DP Monitoring Kit - Top

COMbricks PROFIBUS DP Monitoring Kit - Bottom
ComBricks PROFIBUS PA Monitoring Kit
Product Images
ComBricks PROFIBUS PA Monitoring Kit
SKU: GC-PB-CB-PA-MON-KIT
MPN: GC-PB-CB-PA-MON-KIT
Manufacturer: Grid Connect Inc.
We've Got You Covered
Product Information
Product Description
The ComBricks PROFIBUS PA monitoring kit is ideal for use behind existing 3rd party DP/PA couplers to provide 24/7 monitoring of PROFIBUS PA segments. With the ProfiTrace OE built into the ComBricks Head Station, and the oscilloscope in the PA module, this is extremely powerful pro-active tool for remote maintenance over Ethernet.

The monitoring kit can be expanded to monitor an additional three PA segments or up to 9 PROFIBUS DP segments by adding additional PA and DP modules. The ComBricks backplane can any combination of 10 PA or DP modules. Just snap in the additional modules as needed!
The integrated PA termination is automatically deactivated when used in monitor mode.
CommDTM for ComBricks

The free ComBricks CommDTM provides FDT 1.2 based asset management tools such as FieldCare and PACTware a powerful Ethernet pass through to access PA devices which are connected behind ComBricks PROFIBUS PA modules.
The internal DP-V1 class 2 masters in the ComBricks Head Station are able to drive 2 out of 4 networks divided over the PA modules. When a network connection is closed, the user can enter another network. The 2 active networks are managed by 1 or 2 PC Ethernet connections.
The CommDTM provides the same auto baudrate detection facilities as ProfiCaptain. It detects all busparameters before it goes online.
All ComBricks functions, like the integrated ProfiTrace busmonitor and oscilloscope work simultaneously with the CommDTM.
Features
Comes complete with a Type 1C Headstation (with monitoring) and a one 1-channel PROFIBUS PA module
Integrated oscilloscope for examining messages on the PA cable.
Transparent on 9.6 kbps up to 1.5 Mbps.
Customizable PA voltage.
Gateway for use of the free CommDTM software for asset management using FDT tools like PACTware or FieldCare
DIN-rail mount
1 year warranty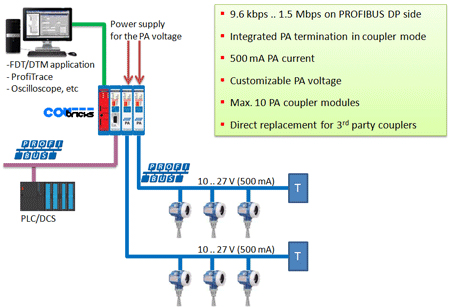 Documents and Drivers
Specifications
Backplane
Up to 32 Modules, (10 High Speed Modules)
Coupler Mode: 10 modules
Monitoring Mode: 4 modules
Cable Length
max 1900 m (depends on trunk current)
Connector(s)
2 Removable PA screw terminals (1-on-1)
PA-, PA+
SH (direct grounding)
I (indirect grounding)
Removable power connector:
-, + (11 .. 28 V)
SH (direct grounding)
Dimensions
Product: 140 x 110 x 25 mm
Cable: <2.5 mm 2 wire diameter (stranded or solid core)
Included in Box
1 COMbricks Head Station Type 1C (GC-PB-CB-HS-1C)
1 COMbricks 1 Channel PROFIBUS PA segment coupler module (GC-PB-CB-PA)
Internal Web Server
Oscilloscope images of connected devices (diff.)
Last, Min, Max bus signals
Bar graph of connected devices
DC current of the trunk and signal jitter
Email on telegram errors and low bus signals
Networks
PROFIBUS: 4 (set by dip-switches or webserver)
Power
PROFIBUS PA power specifications:
10 - 27 V customizable PA trunk voltage (Non-Ex)
500 mA trunk current
10 mA current consumption (in all modes)
32 devices (depends on current consumption)
31.25 kbps PA signal
Software
Requires Head Station Firmware: V1.266 and later
Temperature Range
0°C to +60°C (32°F to +140°F)
Termination
Automatic PA termination (ON in coupler mode)
Transmission Speed
9.6 kbps - 1.5 Mbps (auto detection and including 45.45 kbps)
Request a Quote
Curious about bulk pricing? Please fill out the information below and our sales team will provide a quote within 1 business day.
Product and Quote information
Enter up to two product names/SKUs and up to three quantities for each product. If more products/quantity quotes are needed, please include your requests in the message section below.
Your Contact Information
Please provide information where we can send your quote and reach you in the case where further information is required with the quote.
Where You'd Like the Products Shipped
Please provide information where you'd like the products shipped to so we can give you the most accurate quote possible.
Your Use Case
Please help us understand your use case so we can provide you with the best possible solution. This step is optional, so please feel free to skip it if you'd like.
3 of 3: How challenging has it been to locate products that meet your specific needs?
Confirm Your Request
Please confirm your request and we will get back to you within 1 business day.
Thank You!
Thanks for submitting your quote request. You should receive an email with a copy of your request shortly, and a member from our sales team will reply to you within 1 business day.
We have the best technical support engineers that know how to use our products.
If our Tech Support cannot solve your problem, we will contact the design engineer or manufacturer to help find a resolution.