This product is discontinued and no longer available.
ComBricks SCOPE Alternate (SALT) Cable Repeater

COMbricks SALT Repeater

COMbricks SALT Repeater - Front

COMbricks SALT Repeater - Top

COMbricks SALT Repeater - Side 1

COMbricks SALT Repeater - Side 2
ComBricks SCOPE Alternate (SALT) Cable Repeater
Product Images
ComBricks SCOPE Alternate (SALT) Cable Repeater
SKU: GC-PB-CB-1CH-SALT
MPN: 101-201710
Manufacturer: Procentec
We've Got You Covered
Product Information
Product Description
The ComBricks SCOPE alternative cable repeater (SALT) module makes it possible to use non-standard cable for PROFIBUS communication. Rotary switches adjust the impedance of the cable to match the PROFIBUS Spec. The PROFIBUS telegrams can be inspected with the built in oscilloscope, which is identical to the ComBricks SCOPE repeater module and accessible through the web server.
PROFIBUS networks that have been wired with the wrong cable, for example in situations where it is mandatory to use existing twisted pair cable, are not uncommon. The SALT repeater is an excellent tool to modulate PROFIBUS signals on non-standard media. Moreover, it can also be used to increase the idle-line voltage on segments where idle-line interference causes communication disturbances – which can be helpful even with standard PROFIBUS cable! Large terminal block connectors are provided to allow for different types of specialty cable.
Applications:
PROFIBUS communication over non-standard cable.
Idle voltage increaser for EMC sensitive applications – great for standard cable too!
Impedance tuner for poor segments.
Installations where large PROFIBUS connectors are required.
The SALT's repeater channel and the integrated oscilloscope are directly connected with the ProfiTrace OE core in the Head Station. Scope images and busmonitor data are directly available in the web server. The data traffic is constantly monitored for glitches, which are digitally filtered out. It is able to drive 31 devices and has increased signal strength.
2 Rotary switches, one for the middle resistor and one for the 2 pull-up resistors, manipulate the values of the termination network. The combination of both set the impedance and the level of the idle voltage. At the other end of the cable another SALT repeater or the T1-PEPPER has to be placed (to provide matching termination at both ends of the cable).
Find out more about the ComBricks product family!
Features
SALT modules can be used in combination with any other type of COMbricks modules in the same system.
Use with another SALT repeater at the other end of the non-standard cable, or use the more affordable T1-Pepper Active Terminator. It has the identical rotary switches for matching the termination at both ends of the cable.
Large, sturdy Terminal blocks to accommodate all types of cables.
DIN-rail mount
Back-plane extender included
1 Year Warranty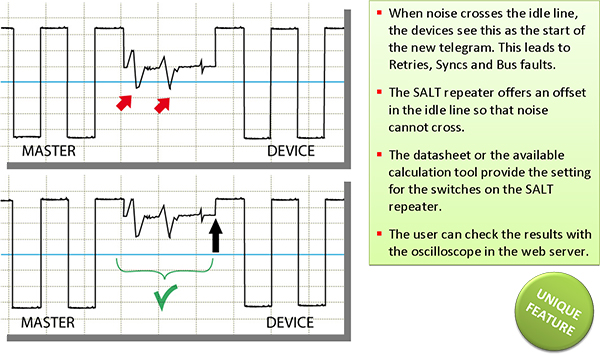 Documents and Drivers
Specifications
Backplane
Support for up to 10 High Speed Modules, Up to 32 Modules Total
Channels
1 Bus channel
31 devices/bus-loads per channel
Compatible Backplane Units
101-200011, 101-200023, 101-200012
Interface(s)
Removable screw terminals
Internal Web Server
Oscilloscope images of connected devices (diff.)
Last, Min, Max bus signals
Bar graph of connected devices
Email on telegram errors and low bus signals
Networks
PROFIBUS: 4 (set by dip-switches or webserver)
Oscilloscope
Frequency: 192 MS/s
Resolution: 50 mV
Differential Range: -6.436..6.436V
Power Supply
Provided through the backplane
Protocols
Transparent for all PROFIBUS protocols
9.6 kbps - 12 Mbps (auto detection)
2 bits delay time (12 bits in redundant mode)
No address required
Bus redundancy (selectable)
Redundancy
Max 10 cables activated by switch
Temperature Range
0°C to +60°C (32°F to +140°F)
Termination
Integrated, switchable
Termination range (MIDDLE): 94 .. 940 Ohm
Idle voltage range (PULL-UP): 0 .. 5 V
Transmission Speed
9.6 kbps up to 12 Mbps (auto detect)
Request a Quote
Curious about bulk pricing? Please fill out the information below and our sales team will provide a quote within 1 business day.
Product and Quote information
Enter up to two product names/SKUs and up to three quantities for each product. If more products/quantity quotes are needed, please include your requests in the message section below.
Your Contact Information
Please provide information where we can send your quote and reach you in the case where further information is required with the quote.
Where You'd Like the Products Shipped
Please provide information where you'd like the products shipped to so we can give you the most accurate quote possible.
Your Use Case
Please help us understand your use case so we can provide you with the best possible solution. This step is optional, so please feel free to skip it if you'd like.
3 of 3: How challenging has it been to locate products that meet your specific needs?
Confirm Your Request
Please confirm your request and we will get back to you within 1 business day.
Thank You!
Thanks for submitting your quote request. You should receive an email with a copy of your request shortly, and a member from our sales team will reply to you within 1 business day.
We have the best technical support engineers that know how to use our products.
If our Tech Support cannot solve your problem, we will contact the design engineer or manufacturer to help find a resolution.