AKCP ropeWater Sensor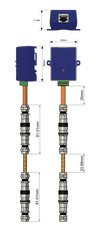 AKCP ropeWater Sensor
Product Images
AKCP ropeWater Sensor: 10 feet
$400.00
SKU: GC-AK-RWS10
MPN: RWSC10
Manufacturer: AKCP Co Ltd.
Stock Status: In stock
Delivery: Ships same or next business day
Qualifies for Free shipping
We've Got You Covered
Product Information
Product Description
Detect water leaks over a large area! With the ropeWater sensor you can protect your essential equipment from potentially harmful water damage. It is ideal for use:
in basements

under false floors

roof spaces.
This water sensor is a switch type that will be on or off and will detect the presence of water if any portion of the rope becomes wet. This sensor comes fully assembled with
Water sensing rope,
non-sensing cable that connects the rope to the sensing module, and
main sensing module that connects via CAT5 LAN cable to the AKCP sensorProbe or securityProbe controller.
The sensing rope cable can be ordered from a 10 foot minimum to any custom run length of up to 165 feet or 50 meters . The non-sensing cable comes in a standard 20 foot run length. The sensing module is then connected to any of the RJ-45 Intelligent sensor ports on the AKCP controllers using standard CAT5 LAN cable.
The presence, or non-presence of water can be used to trigger alerts like e-mail, SMS, phone calls and SNMP traps. The sensor has its own SNMP OID so that it can be monitored over your network using any Network Management System.
Each ropeWater sensor comes complete with a 5 foot CAT5 cable that connects the main sensing module to either the sensorProbe or the securityProbe's RJ-45 sensor ports, or you can use your own CAT5 LAN cable (up to 100 feet or 30 meters).
Combined with any of the sensorProbe series or securityProbe series units, it will give you advance notice of any water leaks or flooding. The sensor will retain it's error condition until it is read via an SNMP get. Therefore if the sensor encounters a critical condition at anytime it will report that condition before it returns to a normal state.
Order Summary
| SKU | Sensing Length | Manufacturer Part # (MPN) |
| --- | --- | --- |
| GC-AK-RWS10 | 10 feet | RWS10 |
| GC-AK-RWS20 | 20 feet | RWS20 |
| GC-AK-RWS30 | 30 feet | RWS30 |
Features
Ideal for covering large areas
Compatible with sensorProbe and securityProbe series
Protect water sensitive equipment from potential disaster
Notifications via E-mail, SNMP trap, SMS and much more
Comes in extendable 10ft lengths, or pre order custom length
Powered by the sensorProbe/securityProbe base unit, no additional power required
Will report critical state if cable is cut or damaged
Documents and Drivers
Documentation
ropeWater Sensor Datasheet
Specifications
Communications Cable
RJ-45 jack to main sensor module using UTP CAT5 cable
Maximum Extension Cable Length
Measurement Range
Wet or Dry (-20°C to 60°C, -4°F to +140°F)
Power Supply
Powered by the sensorProbe or securityProbe. No additional power needed. Both units auto-detects the presence of the ropeWater sensor
Sensor(s)
OID: .1.3.6.1.4.1.3854.1.2.2.1.18.1.3.0
Type
Sensor: Patent pending, microprocessor controlled, capacitance measurement technology
Request a Quote
Curious about bulk pricing? Please fill out the information below and our sales team will provide a quote within 1 business day.
Product and Quote information
Enter up to two product names/SKUs and up to three quantities for each product. If more products/quantity quotes are needed, please include your requests in the message section below.
Your Contact Information
Please provide information where we can send your quote and reach you in the case where further information is required with the quote.
Where You'd Like the Products Shipped
Please provide information where you'd like the products shipped to so we can give you the most accurate quote possible.
Your Use Case
Please help us understand your use case so we can provide you with the best possible solution. This step is optional, so please feel free to skip it if you'd like.
3 of 3: How challenging has it been to locate products that meet your specific needs?
Confirm Your Request
Please confirm your request and we will get back to you within 1 business day.
Thank You!
Thanks for submitting your quote request. You should receive an email with a copy of your request shortly, and a member from our sales team will reply to you within 1 business day.
You Might Be Interested In

$1,090.00

$735.00
We have the best technical support engineers that know how to use our products.
If our Tech Support cannot solve your problem, we will contact the design engineer or manufacturer to help find a resolution.